I drink juice all the time so I wanted a juicer that was suitable for heavy juicers. I researched juicers for months and the Breville BJE510XL was my choice for the best juicer on the market. The juice extractor met my strict requirements for a practical, heavy-duty household appliance.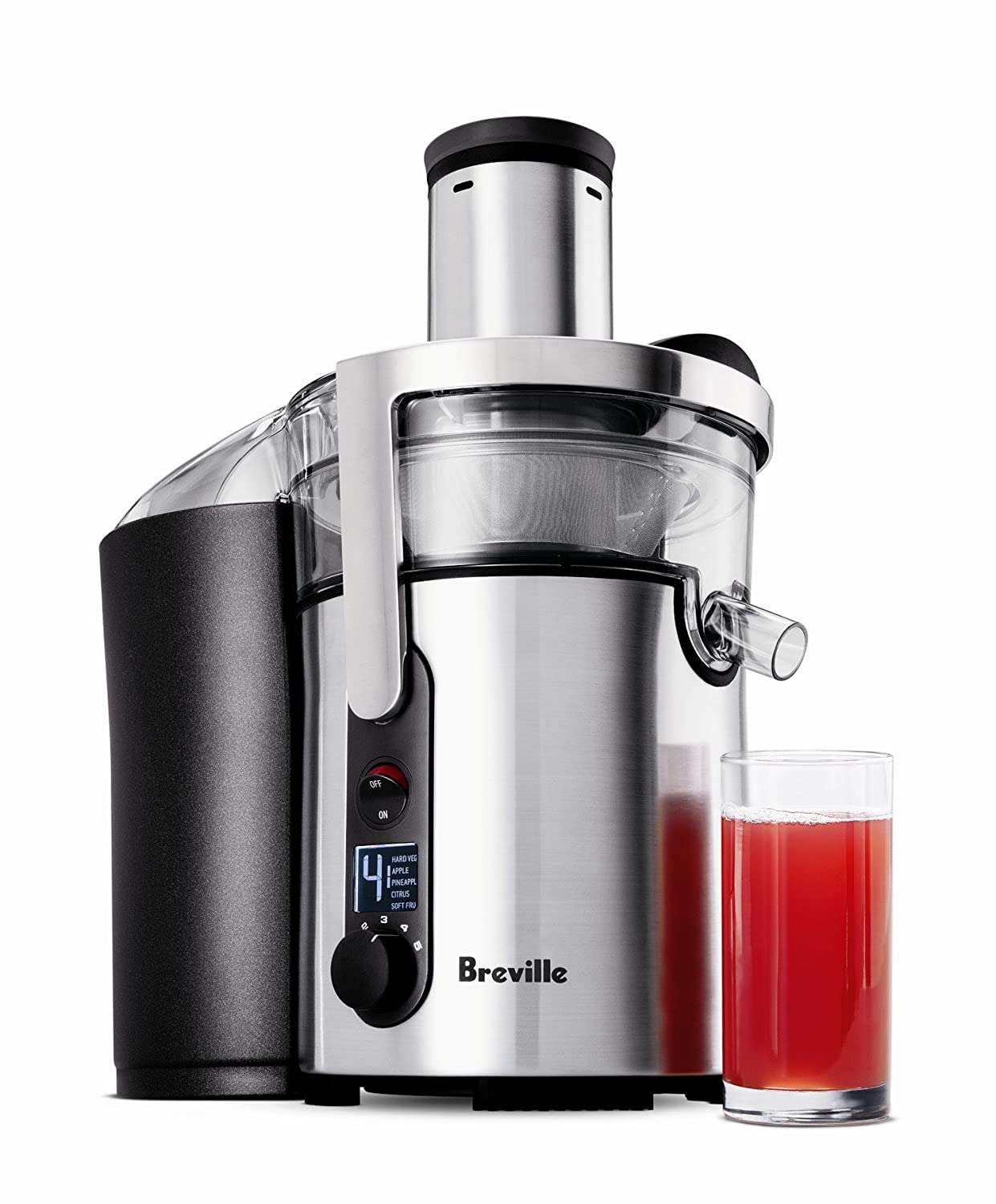 I wanted everything — nutritional benefits of a masticating juicer, speed, and versatility of a centrifugal juicer and easy cleanup feature.
I liked the idea of consuming super healthy foods but I didn't want to devote 30 minutes of my time for a glass of juice.
I didn't think that it was worth it to wake up earlier for juice.
So I sacrificed a little bit of the nutrition for the speed, ease, and cleanup.
First of all, just out of the box, this is one beautiful looking juicer, which sounds strange to say, but when you see it, you'll understand. It has a very high-tech, classy look to it. The variable rpm settings from 1 to 5 depending on what you're juicing give you the most yield for what you want to juice.
Clean up is VERY easy if you have a sink full of soapy water ready just after you juice. All you really have to do is rinse out 4 or 5 parts in soapy water and they come clean instantly. The mesh basket comes clean easily with the brush provided with your juicer.
I do have a dishwasher and understand the parts are all top-shelf dishwasher safe, but I use my juicer twice a day, every day and it's easier for me to just wash & rinse in the sink. Reassembling it is just as quick and easy.
Breville BJE510XL Juicer Technical Specifications
The Breville BJE510XL is a high-powered juicer with a variety of technical specifications. Here are some of the key specifications of the BJE510XL:
Motor: 900-watt, dual-speed motor

Voltage: 110-120V

Frequency: 50/60Hz

Juice jug capacity: 70 fl oz (2L)

Pulp container capacity: 3.2 qt (3L)

Dimensions (WxDxH): 8.5 x 9 x 16 inches (21.6 x 22.9 x 40.6 cm)

Weight: 13.5 pounds (6.1 kg)

Materials: Stainless steel micromesh filter basket and puree disc, titanium-plated cutting disk

Control: LED-illuminated controls for low and high speeds

Safety features: Safety locking arm, overload protection LED, and non-slip feet

Warranty: 1-year limited warranty
I recently started making juice from scratch using the Breville ikon 900-w and was pleasurably surprised by the ease and power of this product. The Breville is very easy to use from removing it out of the box to making your first refreshing glass of juice.
I researched a few other juicers before purchasing the Breville and after using the Breville I can understand some of the critiques of the other juicers — for example, I saw the Jack Lalanne juicer in a store and the reviews stated it was too large, trust me, it is. Also, I would strongly recommend you know what you would like to juice.
The Breville is great for juicing solid vegetables and fruits like carrots and apples but if you are going to do mainly soft fruits (oranges and grapes) I would go with a blender rather than a juice extractor like the Breville. However, if you need a juice extractor the Breville has the power (very important), ease, and style.
The Breville 900-w is very easy to clean. I make a pitcher of carrot, apple and sometimes pear juice in the morning and it takes me approx 15 minutes from start to clean up for a full pitcher. The hardest thing to clean is the grinder screen that separates the juice from the fruit or vegetable.
Lastly, the Breville is very cool looking like a kitchen appliance. Its sleek silver design will go well with your other appliances and has the wow factor. My juice extractor costs around $180 plus $5 for shipping and handling. I thought this was more than a fair price for what you get. I live in Chicago and it was delivered in two days. After reading  Breville BJE510XL Review you will satisfy surely I hope.
Youtube video Credit fpcnjxyjgmailco98166