First of all, when it comes to juicers, I believe in using the best available in the market because these are the things that would cost you a huge amount of money and labor if you buy the wrong one, which is in some cases the cheaper one. Here Omega J8004 Nutrition Center Commercial Masticating juicer is one of those few juicers which give you the perks of both, an affordable price and a better product to give you the best outcome within the time.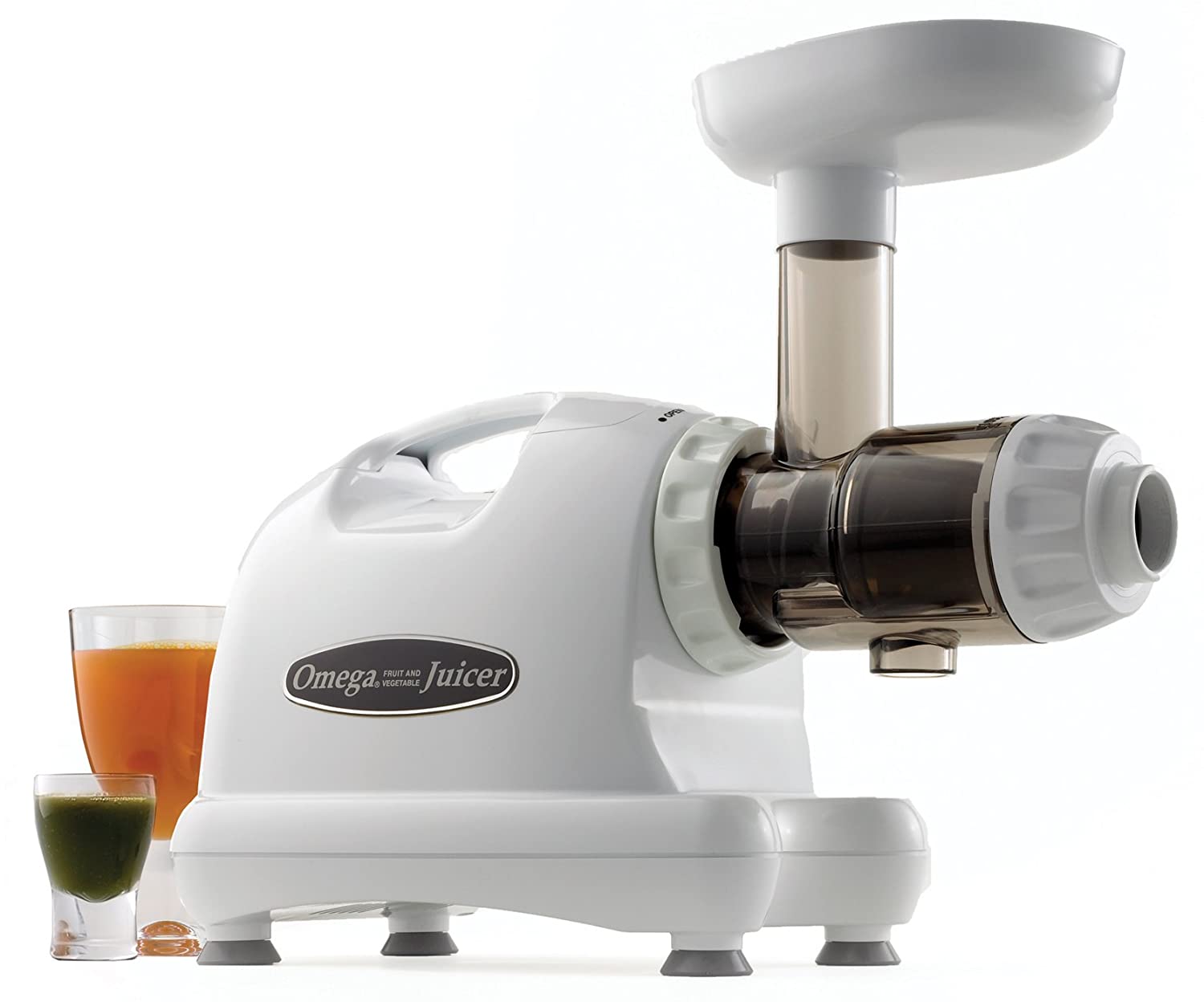 Related: Best masticating juicer reviews.
I have always been fond of juices, obviously homemade, because of this fondness of homemade juice; it was an urgent need for me to buy a new juicer when my Champion Household Juicer 2000 PLUS G5 NG 853S got broke while changing my house.
After that, it really got me anxious as to what to buy next as I wanted something more stable and something that would yield me more efficient and extravagant results.
After coming across a lot of reviews, this product (Omega J8004 Nutrition Center Commercial Masticating juicer) hit me on my points, which I believe I was looking for in a juicer.
The features are quite okay for the price tag along with a very sleek and trendy look; this was a perfect fit for my kitchen.
Moreover, a juicer doesn't only mean a mere juicer to me; it becomes a part and parcel of our daily household routine where it is used frequently than any other thing. So, that's why one needs to deal with this sort of stuff in a cautious manner.
So, throughout this omega j8004 review, I'll give you a very brief but insightful review, which will make you enable to buy this product as from my viewpoint after using this is to give a go.
In the description section, only the side which gives an apparent depiction of the product has been given. I have also added the pros and cons of the product in the latter part of the review which will let you know the drawbacks with just a sweep.
DESCRIPTION OF OMEGA J8004 JUICER
Omega J8004 Nutrition Center Commercial Masticating Juicer is a very useful juicer with a powerful single-gear commercial motor, which will get your job done if you're a person who likes to have some chilled evening with some light juices such as Pineapple juice and other fruit juices. Though it is a slow speed juicer with a speed of just 80 rpm, it can produce juices at a very efficient rate.
This slow speed provides other benefits to the owner as the slow speed prevents the fresh enzymes of the fruits from degrading which lasts up to 72 hours. The GE Ultem Single Auger in this juicer yield efficient results in terms of juice making with 8x more speed than most other plastic augers available on the market.
Furthermore, this dual-stage juicer yields the best when it comes to juice producing, as it firstly squeezes the fruits or the elements put inside it and then grinds the pulp available, which in fact produces a very little amount of dry pulp and more amount of juice.
THE GOOD PART OF OMEGA J8004 JUICER
Firstly, the 80rpm speed of the juicer which is a top-notch feature that anyone would crave for. The average speed available in the market is 1000-1500 rpm. Now here lesser speed means more efficiency in terms of producing juice. The slow speed of the juicer helps you by giving more juice than.
Cleaning should be a concern for every juicer buyer in the market. The cleaning procedure of this juicer is very easy and convenient to do. As the parts of the juicer are detachable, some parts where the fruits pulps get stuck can easily get ridden of, simply by detaching and putting them to single wash in the dishwasher.
The GE altem auger which is made of really hard plastic does the job very nicely as the basically squeezes and grinds with its two-stage juicing system, you will eventually get the best out of fruits.
The juicer has a hard body as a bonus with its stylish look and easily portable to take to any picnic, party, where you just want to have some relaxing time with the chilled environment of juice. Thanks to my Omega J8004 Nutrition Center Commercial Masticating Juicer, as it really relieves me from extra tensions when I go out for the picnic and other sorts of family programs, I don't need to worry anymore.
THE BAD PART OF OMEGA J8004 JUICER
Well, the world-class juicer does have some bad sides about it which would make a bit hesitant about buying it, but I would recommend those trifles not to be considered. Here are the cons of Omega J8004 Nutrition Center Commercial Masticating juicer:
The juicer sometimes heats up after 2-3 times of consecutive use, which I see as a problem but can be easily sorted out if done with some intervals.
Secondly, even though the slow 80rpm speed might too good for some new juice makers, but it will be a bit time consuming for old juice makers like me, who tend to make bigger amounts of juice within a short span of time. So it really is something unsatisfying for me.
Thirdly, even though the amount of dry pulp is less, but personally I think, this should be more efficient with this price range. Where we have different sorts of juicers within this price tag producing lesser amounts of dry pulp, making it more productive for the users.
CONCLUSION:
In the statement given above, I would like to present two points in front of the prospective customers, the first one, this product is an in-all package for you with the price tag, the second one, there are some features which are not worth the price.
Relying on all of these statements I would personally suggest you buy this Omega J8004 Nutrition Center Commercial Masticating juicer as it has some benefits which outweigh the lacking of this product. Moreover, there are some very bright sides, such as the unique GE altem auger which is a unique addition to the product.
Related Article: