Juicing has always been a controversial topic. Some people love it, while others think that it's overrated and time-consuming. But no matter where you stand on the issue of juicing, there's one thing we can all agree on: Breville Juicers are top-of-the-line!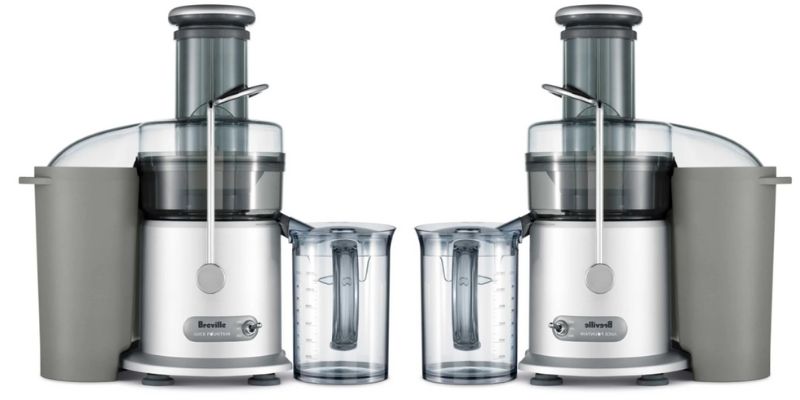 These amazing appliances have revolutionized the way we juice – making it easier than ever to get fresh fruit and vegetable juices right in your kitchen.
Whether you're looking for convenience or health benefits, these high-quality products will make sure you get exactly what you need from your favorite fruits and veggies!
So if you're ready to take your juicing game up a notch (and let's face it – who isn't?), then read on as we explore the incredible world of Breville Juicers! From features to tips and tricks, this guide will help make sure you get the most out of your new purchase.
Types Of Juicers
Juicers come in a variety of forms, each suited to different types of juicing. The most popular types include the centrifugal juicer, cold press juicer and citrus juicer. Breville has created some well-known models such as the Juice Fountain Cold, Juice Fountain Elite and Juicer Compact.
Centrifugal juicers use high speed blades that spin fruits and veggies at around 10 000 RPMs to extract juice from them. This is great for those who want quick results and are looking for a large quantity of juice but it does produce heat which can destroy beneficial enzymes found in fresh fruit and veg.
Cold press or 'slow' masticating juicers grind food at a much slower rate, meaning they don't generate any heat during the process. Therefore, they preserve more vitamins and minerals while producing less foam and pulp than centrifugal models.
Citrus juicers are specifically designed to squeeze out juice from oranges, lemons and other citric fruits; however they won't work with harder vegetables like carrots or beets.
Breville's Juice Fountain Cold uses its unique 'cold spin technology' to draw all the nutrients out without losing any flavour or nutritional value due to oxidation by preventing contact between air molecules and juice components.
Similarly their Juice Fountain Elite also maximises yield through extracting every last drop from your fruits and vegetables whilst maintaining low operating temperatures thanks to an innovative blade design.
And if you're after something smaller then the Juicer Compact takes up little counter space yet still offers big performance when it comes to crushing ingredients for delicious juices quickly! Now let's look closer at what features you should consider when selecting a juicer…
What To Look For In A Juicer
Moving on from the different types of juicers, what should you look for when choosing a Breville juicer? There are various features to consider before buying a juicer that will suit your lifestyle and needs. Here's what to look out for:
Counter Space: Depending on how much kitchen space you have, choose a model with dimensions that fit comfortably in your countertop or cupboard. Breville offers several compact models that won't take up too much room.
Cleaning Brushes & Speed Settings: If you're looking for convenience, many Breville models come equipped with cleaning brushes and speed settings so it takes less time to clean them afterwards. They also include cold spin technology that helps extract vitamins and minerals while preserving flavor and texture.
Type Of Juicer: Consider which type of juicer is right for you – whether its masticating, centrifugal or citrus press – as well as other options such as the popular Breville Juice Fountain series. It all depends on which style fits best with your needs and budget.
By taking into account these factors when choosing a juicer, you'll be able make an informed decision that caters to your specific requirements and tastes. With this knowledge at hand, it's easy to select the perfect machine for your home! From here we can explore the advantages of purchasing Breville juicers.
Advantages Of Breville Juicers
Breville juice products are designed to be efficient, easy-to-use and safe. The Breville Juice Fountain Plus is a great choice if you want high performance in juicing fruits and vegetables.
It has an extra wide feed chute which allows for larger pieces of fruit or vegetable to go through with less prepping time. Additionally, it features 5 speed settings so that you can customize the extraction depending on what you're juicing.
The Breville Juice Extractor offers powerful operation and comes with several safety features such as non-slip feet and auto shutoff when overloading occurs.
It also provides maximum nutrition from your produce by using two stage juicing technology. Furthermore, its stainless steel construction ensures durability and makes clean up a breeze!
Finally, Breville's the Juice Fountain Cold produces cold press juicers at up to 70 percent more nutrients than other types of juicers due to slow masticating technology.
This means that not only do you get nutritious juices but also higher quality ones too! With this product, there are no heat buildup issues associated with traditional centrifugal machines either – making it perfect for busy households who value convenience and healthful drinks.
These advantages make Breville Juicers among the top choices in home kitchen appliances today. Moving onto their features, they offer many options which enhance user experience even further…
Features Of Breville Juicers
Moving from the advantages of Breville juicers, let's now take a look at the features that set them apart. The brand offers a wide range of juicers for different needs and budgets.
From the Breville Juice Fountain Plus Juicer to the Breville Juice Fountain Cold Plus Juicer, there is something for everyone.
The Breville Juice Fountain Elite Juicer has an extra-wide feed chute which makes it easy to insert whole fruits and vegetables into the extractor without having to chop them up first.
It also has a powerful motor, two speed settings – low and high – as well as a large pulp container so you can make more juice in less time.
For those looking for a compact design, the Breville Juice Fountain Compact Juicer may be just what you need. This model is not only small enough to fit on any countertop but it's also easy to assemble and use with its intuitive controls.
It also includes a special filter basket designed to separate out more nutrients and fiber than traditional centrifugal models do.
Overall, whether you're after more power or convenience, Breville juicers have something for you – all featuring sturdy construction and sleek designs that will add style to your kitchen decor.
With these machines making fresh juices is effortless and hassle free; no wonder why they are considered among some of the best on the market today! With this knowledge in hand, let's explore further by examining the benefits of using Breville juicers.
Benefits Of Breville Juicers
To cut to the chase, Breville juicers offer tremendous benefits that make them stand out from the crowd. For starters, their Juice Fountain Cold Juicer ensures that all your juices are cold-pressed and consequently retain their natural flavors and nutrients better than other juicing methods.
In addition, their Juice Fountain Cold Plus has five speed settings so you can adjust it according to the type of fruit or vegetable you're using. Furthermore, the BJE models come with a unique froth separator which allows for easier cleaning up after use.
Next on the list is the XL Compact Electric Juicer which comes with two adjustable speeds so you can easily control how much juice gets extracted from each ingredient.
On top of that, there's also the Breville Juice Fountain Cold Electric Juicer which has an even larger capacity and more powerful motor compared to its predecessors.
Finally, if you need something extra durable then look no further than the Breville Juice Fountain Plus Juicer in Brushed Stainless Steel – this appliance boasts a three-year warranty guaranteed to last longer than most other brands' products!
Given these features and benefits, it's easy to see why Breville juicers have become such popular kitchen appliances among home cooks and professional chefs alike.
Moving forward into performance & efficiency, one will find that these machines are designed for maximum output without compromising quality or flavor.
Performance & Efficiency
Moving on now to performance and efficiency, let's explore how Breville juicers measure up when it comes to output. The Breville Juice Fountain Cold Juicer Silver BJE510XL is a prime example of the company's commitment to quality and convenience.
This dual chute appliance features a two speed motor with an electric motor that operates at 13,000 RPM for fast results. It also has an automatic pulp ejection system that allows for continuous juicing – saving you time in preparation.
Plus, its cold spin technology can extract more juice from fruits and vegetables than traditional methods – making your beverage even healthier!
These features make Breville's products particularly efficient by reducing waste and providing maximum yield.
Their patented active arm press system gives you full control over the pressure exerted on produce while their unique micro mesh filter helps reduce foam created during processing. This all adds up to allow more nutritious juices that are easier on the wallet too!
The bottom line: Breville stands out as a leader in the industry when it comes to performance and efficiency thanks to their innovative designs, cutting-edge technologies, and dedication to customer satisfaction.
With their advanced appliances like the Juice Fountain Cold Juicer Silver BJE510XL, you can be sure you're getting top-notch results every time you use one of these amazing machines! Now let's take a look at design & aesthetics…
Design & Aesthetics
Although size and design may not be the primary factors to consider when purchasing a juicer, it is important to think about how much countertop space you want your juicer to take up. Breville offers several different models with varying sizes and styles of designs that are sure to fit any kitchen decor.
| Design & Aesthetics | Features |
| --- | --- |
| Compact Design | Wide Feed Chutes |
| Juice Fountain Plus | Cuisinart Juice Extractor |
| Countertop Space | Cleaning Tool |
| Tribest Slowstar | Adjustable Speed Settings |
All of their products have highly efficient functions such as wide feed chutes for large pieces of fruit or vegetables, juice fountain plus technology for maximum extraction, adjustable speed settings on some models, and even a cleaning tool included in select packages. 

For example, their top-of-the-line model comes equipped with all these features while being compact enough to fit on most countertops without taking up too much space. 

Additionally, they offer several more affordable options like their Tribest Slowstar which is perfect for those looking for an economical yet high performing machine.
Overall, Breville has done an excellent job at making sure there is something available for everyone regardless of budget or desired feature set.
From sleek modern designs to powerful motors and versatile controls, each device promises quality performance every time.
By providing this level of variety and customization potential, Breville ensures that anyone can find the right machine without compromising on their vision or style. With cost considerations now in mind, let's move onto the next section…
Cost Considerations
When it comes to cost, Breville Fountain Elite is considered an expensive juicer. It can be found for around $400 at the time of writing. By comparison, a Cuisinart Juice Extractor and a Hamilton Beach Big Mouth Premium are both more affordable options in the same price range as the Breville.
The biggest difference between the three models lies in durability; the Breville can last much longer than its competitors due to its stainless steel construction and higher wattage motor.
Therefore, if you're looking for something that will serve your needs over many years then it may be worth investing in this particular model despite its high price tag.
However, if budget is a major consideration or you don't need a juicer with such longevity then either of the other two models could suit your needs just fine without breaking the bank.
Ultimately, it all depends on what type of juicer best meets your individual preferences and lifestyle requirements.
Ease of cleaning and maintenance should also factor into your decision-making process when selecting a new juicer…
Cleaning & Maintenance
Cleaning and maintaining your Breville juicer is a simple process. Here are three steps to ensure you get the most out of its use:
After each batch of juice, disassemble the components and wash them in soapy water with a food pusher or brush.
Rinse well before reassembling, making sure the pulp collector and stainless steel cutters have been properly washed.
For tougher stains, fill the basket with warm water and a cleaning brush and let it soak for 15 minutes before rinsing thoroughly.

With regular maintenance, your Breville Juicer will stay in top condition for years to come! Transitioning into the versatility & capacity of this machine, there's much more than just being able to squeeze fresh juice from fruits and vegetables – it can be used for many other recipes as well!
Versatility & Capacity
Moving on from Cleaning & Maintenance, Breville juicers offer a wide range of versatility and capacity. Juicing with these machines can be as specific or as broad as you like.
For instance, if you're looking for fresh juice in the morning, most models are equipped to handle large quantities of citrus fruit quickly and efficiently.
They also have larger pulp containers that reduce the amount of time spent removing large chunks of fruits and vegetables during the juicing process. Plus they come complete with an ounce juice jug so that you can measure out your servings each day.
If you need more than just a standard juicer then consider one of their slow juicers which allow users to get the maximum nutritional value out of every piece of produce being used.
These models also provide a higher level of control over how much pulp is included in each serving since it has its own separate container within the machine itself. Additionally, some models even double as food processors which give users more options when making healthy snacks or meals with their ingredients.
The versatility and capacity provided by Breville's lineup allows users to customize their juices according to what works best for them without sacrificing quality or convenience.
With this variety comes greater flexibility when trying to stay on top of personal health goals while still enjoying delicious drinks at home or on-the-go.
Looking towards warranty options provides peace of mind knowing that any purchase made will be covered should anything unexpected arise down the line.
Warranty Options
When looking to purchase a Breville juicer, customers should consider the warranty options that come with each model. All Breville juicers have at least a one-year limited warranty on parts and labor.
Some of their more popular models are equipped with additional warranties that can give buyers peace of mind when investing in this product.
For example, some of their centrifugal juice extractors offer an extended two-year warranty while the Juice Press Plus comes with a ten-year guarantee on cutting blades.
The Omega Nutrition Center also has an impressive 15-year warranty for all its parts and labor.
These warranties make it easy for customers to get replacement parts or repairs if something does go wrong.
This is especially important for those interested in making thicker vegetable juices or freshly squeezed orange, carrot, and lemon juices as these require heavier use from the machine.
With these long term warranties offered by Breville, consumers can rest assured that they will be able to enjoy their favorite drinks without any added stress about expensive repairs down the line.
Breville's commitment to quality customer service makes them ideal choice for people searching for reliable kitchen appliances.
They clearly stand behind their products and understand how much time and effort goes into creating delicious fresh juices every day.
As such, customers can always feel confident in selecting a Breville juicer knowing that they're covered should anything happen during normal use over the years ahead.
Popular Models
Having discussed warranty options, let's now take a look at some popular models of Breville juicers. The Juice Fountain Compact is an ideal choice for those who prefer to make smaller batches of juice.
It has the unique ability to extract more juice from soft fruit such as oranges and tomatoes. Also equipped with a built-in froth separator, it ensures that no pulp gets through so you have a delicious cup of juice every time.
The Hamilton Beach Big Mouth Pro Juice Extractor is another great option if you are looking to make larger batches of juice quickly and easily.
With its extra-wide chute and powerful motor, it can handle even tough fruits like apples or carrots in just minutes. Plus, its electric citrus juicer attachment makes squeezing lemons and limes super convenient!
Finally, for those wanting something simpler yet still effective, there's the Breville BJE200XL Compact Juicer.
Its small size allows it to fit on most kitchen counters without taking up too much space while its stainless steel cutting disc ensures maximum extraction from your produce every time.
And don't forget about the one-year limited warranty period which adds peace of mind when making your purchase decision.

Transitioning into our next topic: accessories & attachments, let us explore what else we can do with Breville juicers other than simply extracting juices.
Accessories & Attachments
"You can't make an omelet without breaking eggs," and the same is true for juicing. Breville juicers come with a variety of accessories and attachments to make your juicing experience easier and more enjoyable.
Whether you're looking to create a delicious juice recipe, freshly squeezed citrus juice, or frozen desserts, these attachments will help you get the most out of your Breville juicer.
Accessories & Attachments
Description
Benefits
Juice Jug
A container is used to store juices from the juicer.
Ease of use; saves time while transferring juices into other containers. Can also be placed in refrigerator when not in use.
Nut Milk Bag
Specialized filter bag which strains solid particles from liquids like nut milk and fruit smoothies.
Provides an easy way to strain liquid ingredients by removing unwanted solids such as fiber pieces, skins, seeds, etc.
Creates a smoother texture for drinks compared to traditional straining methods such as cheesecloth or kitchen sieve/strainer.
Extra Wide Feed Chute
Wider chute that allows larger ingredients (whole fruits/vegetables) to enter directly into the Breville Juicer's feed tube rather than being chopped up first before entering via standard sized feed chutes.
Easier preparation – no need for pre-chopping or slicing vegetables/fruits prior to inserting them into the feed tube; shorter processing times due to wider food input size; increased convenience since users do not have to spend extra time chopping foods before adding them into their Breville Juicer.
With all these accessories at hand, making a glass of juice has never been so simple! The extra wide feed chute makes it even faster and easier too: just pop whole fruits and veggies right into the machine – no need for pre-chopping!
All that's left is sit back and enjoy your favorite beverage knowing you got every bit of goodness out of those fresh produce items!
No matter what type of drink you're craving, having the right accessory or attachment makes it easier than ever to prepare fantastic tasting beverages quickly and easily with your Breville Juicer!
Reviews & Testimonials
Having discussed the various accessories and attachments available for Breville juicers, it is now time to look at what consumers have to say about them.
Breville offers a variety of models from centrifugal types with powerful watt motors boasting dual speed settings up to cold spin technology, to different juice jugs capacities as well as the ability to process a wide variety of produce.
Omega nutrition systems are also popular amongst customers due to their efficient design.
When reviewing customer feedback on breville juicers, most customers report that they are satisfied with both the product quality and its performance. Many users appreciate how easy the machine is to use and clean.
Additionally, many comment on how quickly it can extract juices from fruits and vegetables while retaining high levels of flavor and nutrients in each glass.
Even those who experience technical issues or require additional parts praise Breville's excellent customer service team for helping them resolve any issue efficiently and promptly.
Overall, user reviews suggest that Breville Juicers provide great value for money when considering their features, efficiency, durability and ease of use – making them an ideal choice for anyone looking for a reliable kitchen appliance that will help improve their health through nutritious home-made juices.
With this positive feedback in mind, let's explore some alternative options when searching for a juicer suitable for your needs.
Alternatives To Breville
The juicer is like a king of the kitchen, reigning over all other appliances. It gives us access to the natural nutrition contained in our favorite fruits and vegetables, allowing us to make healthy juices with just a few simple steps.
But what if you don't have a Breville juicer? Here are some alternatives for making delicious, nutritious juice without one:
Manual Juicers: For those who want to get their hands on the job, manual juicers provide an affordable option that allows you to control every aspect of your juice-making process. They work best with softer produce such as oranges or grapes but can also be used for leafy greens and harder veggies like celery or carrots. Plus, they take up very little counter space!
Blenders: If you prefer smoothies over juices, blenders offer a great way to blend chunks of fruit together into a creamy concoction. You can even use them for vegetable-based drinks like beet juice or carrot pulp slushies – anything goes! Just be sure not to overload the blender so it doesn't burn out from too much strain.
Reamers: Small reamers are ideal for squeezing fresh citrus fruits such as lemons and limes by hand. The resulting liquid yields more flavor than using canned varieties, plus you get about twice as many ounces of juice per piece of fruit compared to electric juicers! This method may require some arm power but is worth it when you need only a small amount of juice at once.
No matter which appliance or technique you choose, always remember that drinking freshly-made fruit and veggie juices provides essential vitamins and minerals that help keep you healthy and energized throughout the day!
So grab your favorite fruits (and veggies!) and start crafting your own healthy concoctions today!
Conclusion
In conclusion, Breville juicers are a great option for those who want to get the most out of their juice. With so many features and benefits, it's no wonder that they're popular with both professional and home users alike.
They don't just make delicious juices; they also allow you to experiment with different flavors and textures easily.
But if you're looking for something more affordable or an alternative to Breville Juicers, there are plenty of other options on the market.
You can find manual models, centrifugal juicers, masticating juicers, citrus presses – all offering similar results at a lower price point.
At the end of the day though, I'd still recommend buying a Breville over any other brand as it offers superior performance and quality.
Not only will your juices taste amazing but you'll be able to enjoy them knowing that you made the best possible choice in terms of value for money!